The 7th InnovateWork Toronto Summit has partnered with more awesome HR, Tech and Talent providers than ever before. Get the low-down here.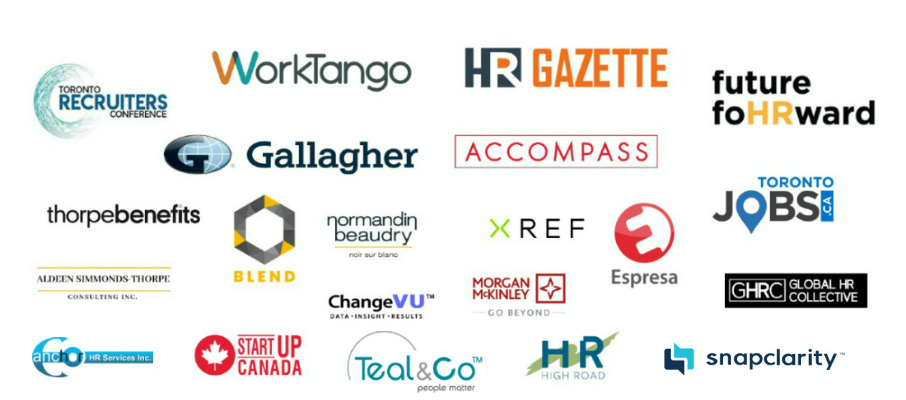 The HR Gazette – Organizing Sponsor – Latest opinion, reviews and podcasts for pros interested in HR Technology, Talent, Performance, Learning, Leadership.
WorkTango – Organizing Sponsor – A platform to give employees a voice and companies actionable insight.
Future FoHRward – Organizing Partner – providing HR professionals with the best community and content in a stimulating, engaging and interactive environment to prepare them for the Future of Work.
Toronto Recruiters Conference – Venue Partner – Powered by TorontoJobs.ca, #TRCONF has been designed for Recruiters to gain valuable information from industry leaders on key issues in the Employment Industry.
Accompass – Platinum Sponsor – A leading independent benefits, investment and compensation firm that designs and manages its clients' programs from the biggest picture to the smallest detail.
Blend HRM – Gold Sponsor – Helping organizations and individual clients successfully implement recruitment strategies. The firm produces tangible business outcomes by placing value in people management and development.
Espresa – Gold Sponsor – The world's first all-in-one Culture Benefits™ platform dedicated to helping HR and people teams design, launch, scale, and measure workplace employee program success.
Morgan McKinley – Silver Sponsor – Our mission is to connect niche specialist tech talent with leading employers across multiple industries and disciplines within Canada.
High Road Human Capital – Silver Sponsor – Veteran-owned, Diversity Supplier specializing in Talent Acquisition and Human Resources. High Road provides the resources, strategy, and vision to help. Services include resume screening and assessment, HR policy and procedure.
Snapclarity – Bronze Sponsor – Access quality mental health care anytime, anywhere. Receive expert one-on-one help when you need it the most.
Teal and Co – Bronze Sponsor – Working with people – individuals and the teams they are a part of – to help make them be better at what they do.
Thorpe Benefits – Copper Sponsor – Specialists in group benefits. Developing and implementing solutions that address both employee and organizational health.
Xref – Copper Sponsor – An online, mobile-friendly reference checking tool that enables fast, data-driven hiring decisions.
Normandin Beaudry – Copper Sponsor – Total rewards consulting firm providing advisory services in 8 areas of expertise including Performance, Group Benefits, Compensation, Pension and Savings, and Communication.
Anchor HR Services – Copper Sponsor – Assisting new, growing, and under-resourced organizations implement the solutions required to drive a great employee experience and business results.
TorontoJobs.ca – Community Partner – Offering services designed to connect local employers to skilled candidates throughout the Toronto Area.
Global HR Collective – Community Partner – Created to design, develop & share the latest thinking, trends & best practices affecting the HR profession.
Aldeen ST Consulting – Community Partner – Working with SMBs to proactively transform and align their HR and business strategies.
Lighthouse Labs – Community Partner – Empowering students, launching careers, and contributing to the growth of Canada's tech industry.
Startup Canada – Community Partner – We are entrepreneurs working together to build a Canada for entrepreneurs and give a voice to the Canadian startup community.
ChangeVU – Named Sponsor – The digital platform designed to deliver successful change more consistently by identifying and mitigating people risks. The system creates success profiles and change-oriented data analytics to improve decision-making speed and reliability.
————
Interested in sponsoring? Check out options and contact [email protected] to learn more: https://innovatework.co/sponsorship/