The InnovateWork Toronto summits and monthly meetups engage 1000s of HR, Talent and Tech pros from across southern Ontario.
The 7th InnovateWork Toronto Summit, happening November 26th, will bring together more HR, Talent, Tech and C-Level pros than ever before for an evening of learning and networking.
Hosted at the North Building, Lower Level of the Metro Convention Centre, the event will offer awesome speakers, a debate and networking opportunities for professionals in Toronto.
InnovateWork Toronto #7 is brought to you by The HR Gazette & WorkTango.  This event is supported by Future FoHRward and is being offered in collaboration with the Toronto Recruiters Conference.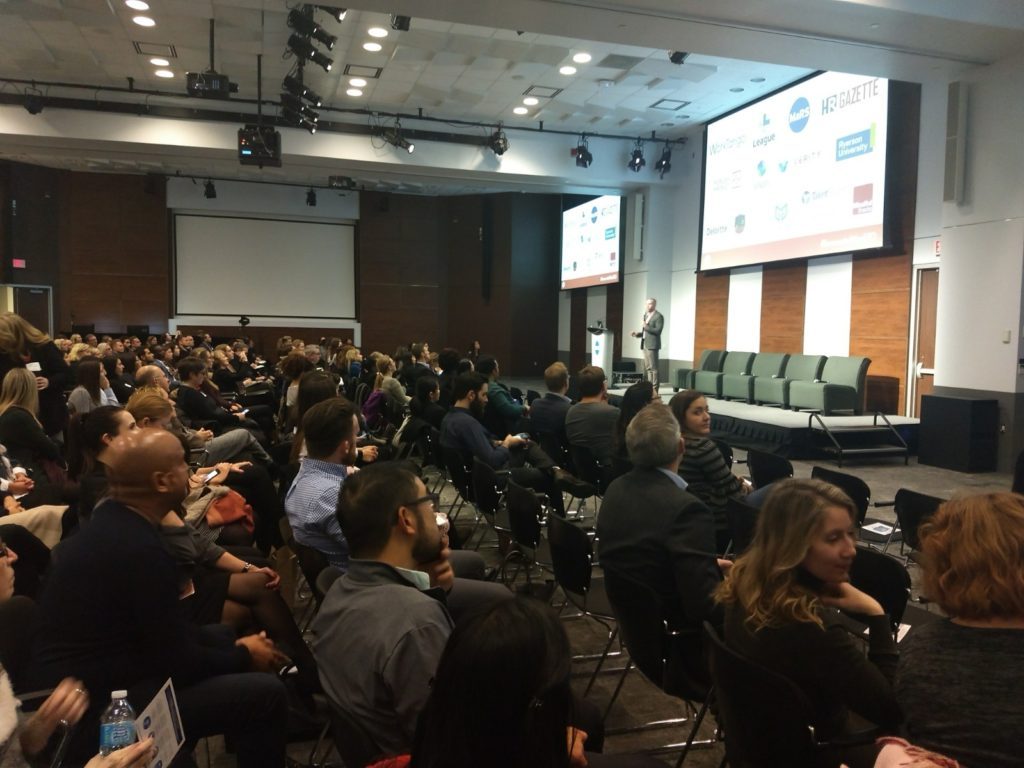 The Toronto summit brings 300-500 pros together to hear from major names in the industry and network with peers. The smaller-scale meetups happen most months and are a staple for the local community.
Ticket Options
InnovateWork TO Evening Only -Access to the event, panel and speakers, networking. General admission = $59-$69 plus fees and taxes.
VIP Toronto Recruiters Conference AND InnovateWork Admission- Full-day Conference and Tradeshow access, including 10+ Industry Leading Speakers. Includes 1 lunch voucher, 1 social media post to promote your brand to our following of 50,000+ on TorontoJobs.ca accounts, 1 Job Posting Credit on TorontoJobs.ca ($149 value), preferred seating for conference sessions and access to InnovateWork Toronto #7 in the evening. CA$249.00 plus fees and taxes. 
InnovateWork Agenda
4:00 pm - 5:15 pm - Registration and Networking
5:15 pm - 5:25 pm - Opening, Sponsor(s) Address
5:30 pm - 6:00 pm - HR Passion Series (9-minute Passion Talks)
John Stockwell, Senior Vice President & Chief People Officer, Dentsu Aegis Network - "Mentorship and Giving Back"
Megan Woerlein,  VP, People at Crowdriff - "HR as the Leading Force for Change"
Michael De Bonis, VP of HR, Wasteco - "Stand Up"
6:00 pm - 6:30 pm - Networking (cash bar & snacks)
6:30 pm - 6:45 pm - Sarah Beech, President at Accompass - "They're humans – not resources: How to make your people feel truly rewarded for their work"
6:45 pm - 7:25 pm - Keynote Speaker - Eric Termuende, Best-Selling Author of Rethink Work - "Shifting from Teams to Community" 
7:25 pm - 8:05 pm - "The Debate" "As our worker ecosystem continues to evolve, so does the concept of and priorities within the area of Total Rewards. Hear from leaders and offer your inputs in this interactive debate." Moderated by Naomi Titleman Colla, Co-Founder at Future FoHRward. 
Sarah Redford, Chief People Officer, New Signature
Poonam Tewari, Director of HR, Ubisoft
Chris Chen, Managing Director, Compensation Governance Partners
Kathleen Jinkerson, Practice Lead, Talent Company
8:05pm - 8:30pm - Close & Networking
Sponsors and Partners
Thanks to our amazing partners and sponsors! Interested in sponsoring? Check out options and contact publisher@hr-gazette.com to learn more: https://innovatework.co/sponsorship/
The HR Gazette - Organizing Sponsor - Latest opinion, reviews and podcasts for pros interested in HR Technology, Talent, Performance, Learning, Leadership.
WorkTango - Organizing Sponsor - A platform to give employees a voice and companies actionable insight.
Future FoHRward - Organizing Partner -  providing HR professionals with the best community and content in a stimulating, engaging and interactive environment to prepare them for the Future of Work.
Toronto Recruiters Conference - Venue Partner - Powered by TorontoJobs.ca, #TRCONF has been designed for Recruiters to gain valuable information from industry leaders on key issues in the Employment Industry.
Accompass -  Platinum Sponsor - A leading independent benefits, investment and compensation firm that designs and manages its clients' programs from the biggest picture to the smallest detail.
Blend HRM - Gold Sponsor - Helping organizations and individual clients successfully implement recruitment strategies. The firm produces tangible business outcomes by placing value in people management and development.
Espresa - Gold Sponsor - The world's first all-in-one Culture Benefits™ platform dedicated to helping HR and people teams design, launch, scale, and measure workplace employee program success.
Morgan McKinley - Silver Sponsor - Our mission is to connect niche specialist tech talent with leading employers across multiple industries and disciplines within Canada.
High Road Human Capital - Silver Sponsor - Veteran-owned, Diversity Supplier specializing in Talent Acquisition and Human Resources. High Road provides the resources, strategy, and vision to help. Services include resume screening and assessment, HR policy and procedure.
Snapclarity - Bronze Sponsor - Access quality mental health care anytime, anywhere. Receive expert one-on-one help when you need it the most.
Teal and Co - Bronze Sponsor - Working with people – individuals and the teams they are a part of – to help make them be better at what they do.
Thorpe Benefits - Copper Sponsor - Specialists in group benefits. Developing and implementing solutions that address both employee and organizational health.
Xref - Copper Sponsor - An online, mobile-friendly reference checking tool that enables fast, data-driven hiring decisions.
Normandin Beaudry - Copper Sponsor - Total rewards consulting firm providing advisory services in 8 areas of expertise including Performance, Group Benefits, Compensation, Pension and Savings, and Communication.
Anchor HR Services - Copper Sponsor - Assisting new, growing, and under-resourced organizations implement the solutions required to drive a great employee experience and business results.
TorontoJobs.ca - Community Partner - Offering services designed to connect local employers to skilled candidates throughout the Toronto Area.
Global HR Collective - Community Partner - Created to design, develop & share the latest thinking, trends & best practices affecting the HR profession.
Aldeen ST Consulting - Community Partner - Working with SMBs to proactively transform and align their HR and business strategies.
Lighthouse Labs - Community Partner - Empowering students, launching careers, and contributing to the growth of Canada's tech industry.
Startup Canada - Community Partner - We are entrepreneurs working together to build a Canada for entrepreneurs and give a voice to the Canadian startup community.
ChangeVU - Named Sponsor - The digital platform designed to deliver successful change more consistently by identifying and mitigating people risks. The system creates success profiles and change-oriented data analytics to improve decision-making speed and reliability.